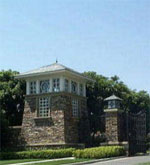 One Ford Road
One Ford Road, a 400+ home luxury residential community situated on 100-acres in the heart of Newport Beach, California was created from the redevelopment of a former Ford Aerospace Corporation site.
Numerous key challenges including: rigid community standards for project entitlements, expectations by the adjacent homeowners and local governmental officials, environmental remediation issues, leasehold versus fee property rights on the underlying property, and the expectations of Ford Motor Company were overcome to create a world-class project.
By effectively managing these key challenges and creating the vision for One Ford Place, the value added to Ford was worth over $50 million.