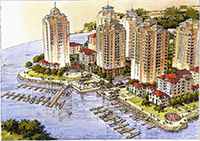 Marina Shores Village
Marina Shores Village was planned as a world-class residential and mixed use community on the 46.5 acres on the San Francisco peninsula. Plans included 1,930 residential homes in 13 towers ranging up to 230 feet situated on two marinas. Also planned was 300,000 sq. ft. of office, 25,000 sq. ft. of retail and a 200-room hotel.
The stunning architecture of Marina Shores Village reflected a true urban village reminiscent of European waterfront towns. Many homes would have dramatic views of the adjacent 3,400-acre Bair Island Wildlife Refuge and the San Francisco Bay.